We're super excited to share something awesome with you. Have you ever heard of the Rockwood Hard Side Series of pop-up campers? If not, you're in for a treat! These campers are a game-changer in the world of outdoor adventures, combining the sturdiness of a travel trailer with the ease of a tent camper. Let's dive into what makes these campers a must-have for your next outdoor adventure.
The Perfect Blend of Strength and Simplicity
Rockwood Hard Side Pop-Up Campers are like a dream come true for those who love to travel and camp. They are super easy to set up, taking only a few minutes. Imagine getting to your favorite campsite and being ready to relax in no time. Plus, each model comes with a cozy air conditioner and a furnace, so you can be comfy no matter what the weather's like outside.
Packed with Features You'll Love
These campers are loaded with features that make camping not just fun but convenient too:
Effortless Traveling: With a sturdy 12 Volt water pump and easy-to-lube axles, moving around is a breeze.
Cooking Made Easy: A 3-burner indoor range with a cover and a handy microwave means you can cook up a storm wherever you are.
Stay Powered Up: Thanks to solar prep on the frame and a 30 Amp detachable power cord, you'll always have the power you need.
Comfy Interiors: LED ceiling lights and wood drawers with full-extension guides add a touch of home.
Safety First: With electric brakes and stabilizer jacks, you can rest easy knowing you're safe and secure.
Models to Suit Every Need
The A122S: This compact gem features a large storage area and a dinette with seating for four, perfect for small groups or families.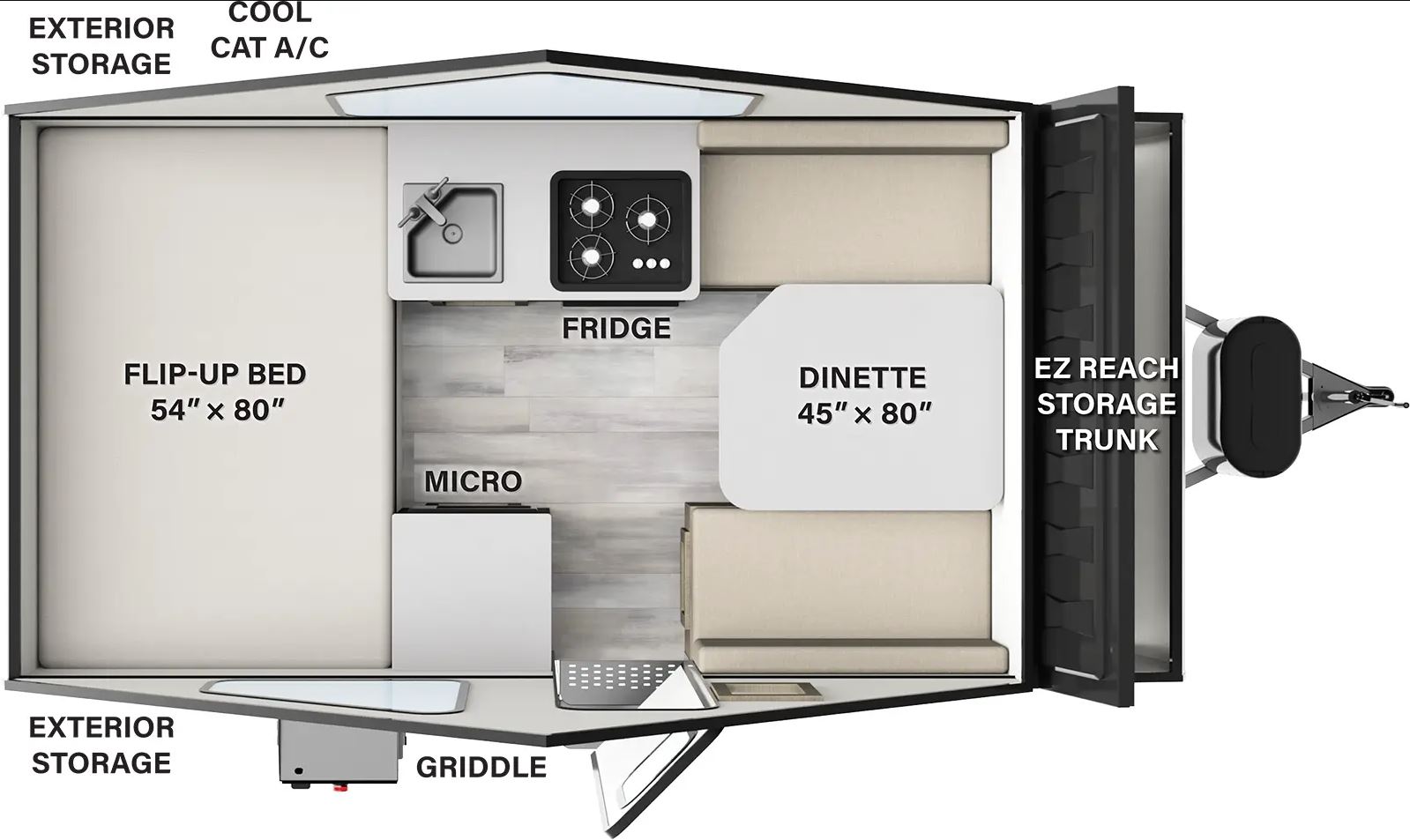 A213HW: Need flexibility in sleeping arrangements? This model has two twin beds that can convert into a king-size bed. Plus, it has a toilet for extra convenience!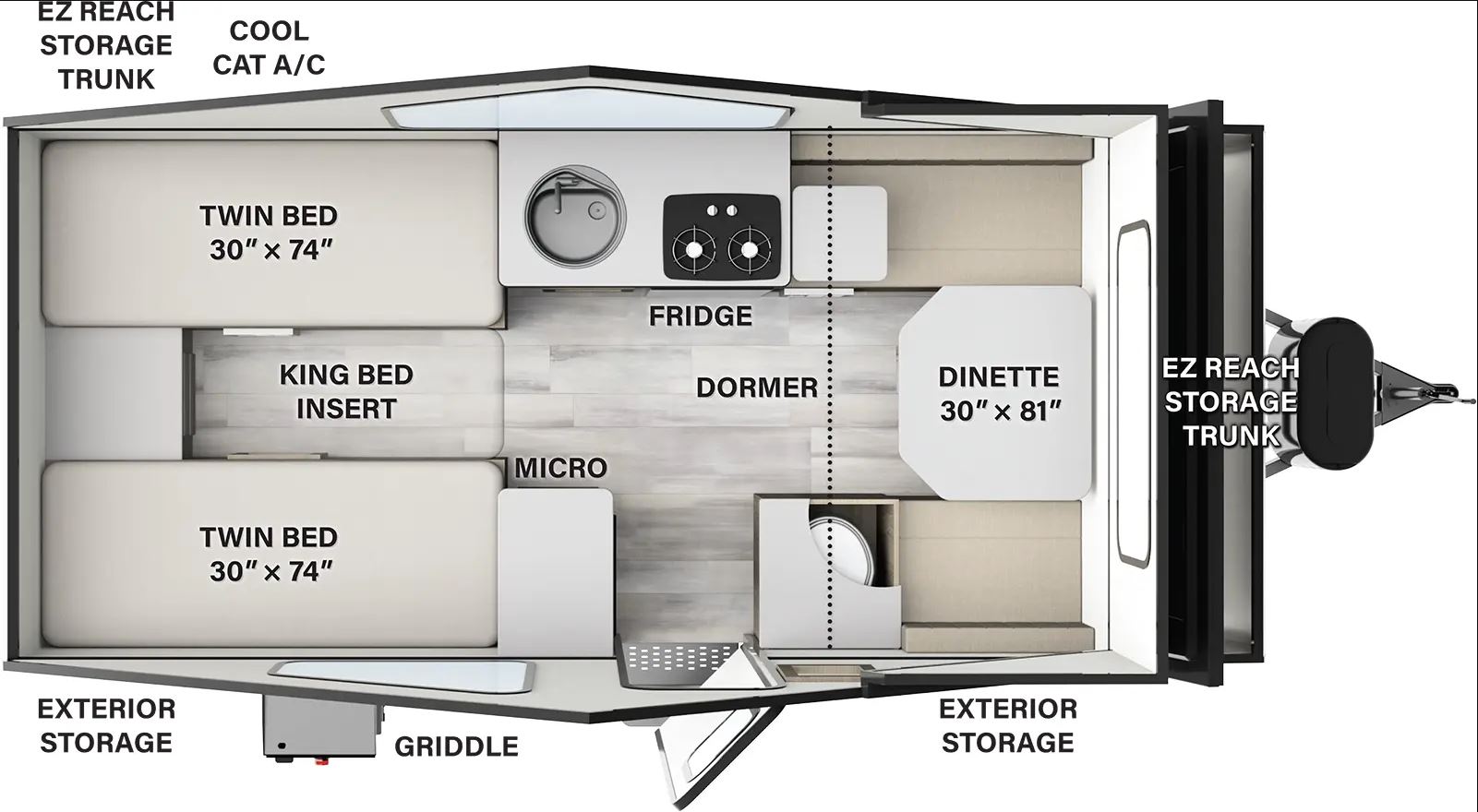 A214HW: Ideal for those who need a bit more space, this model comes with a queen-size bed and a collapsable bathroom, complete with a shower and toilet.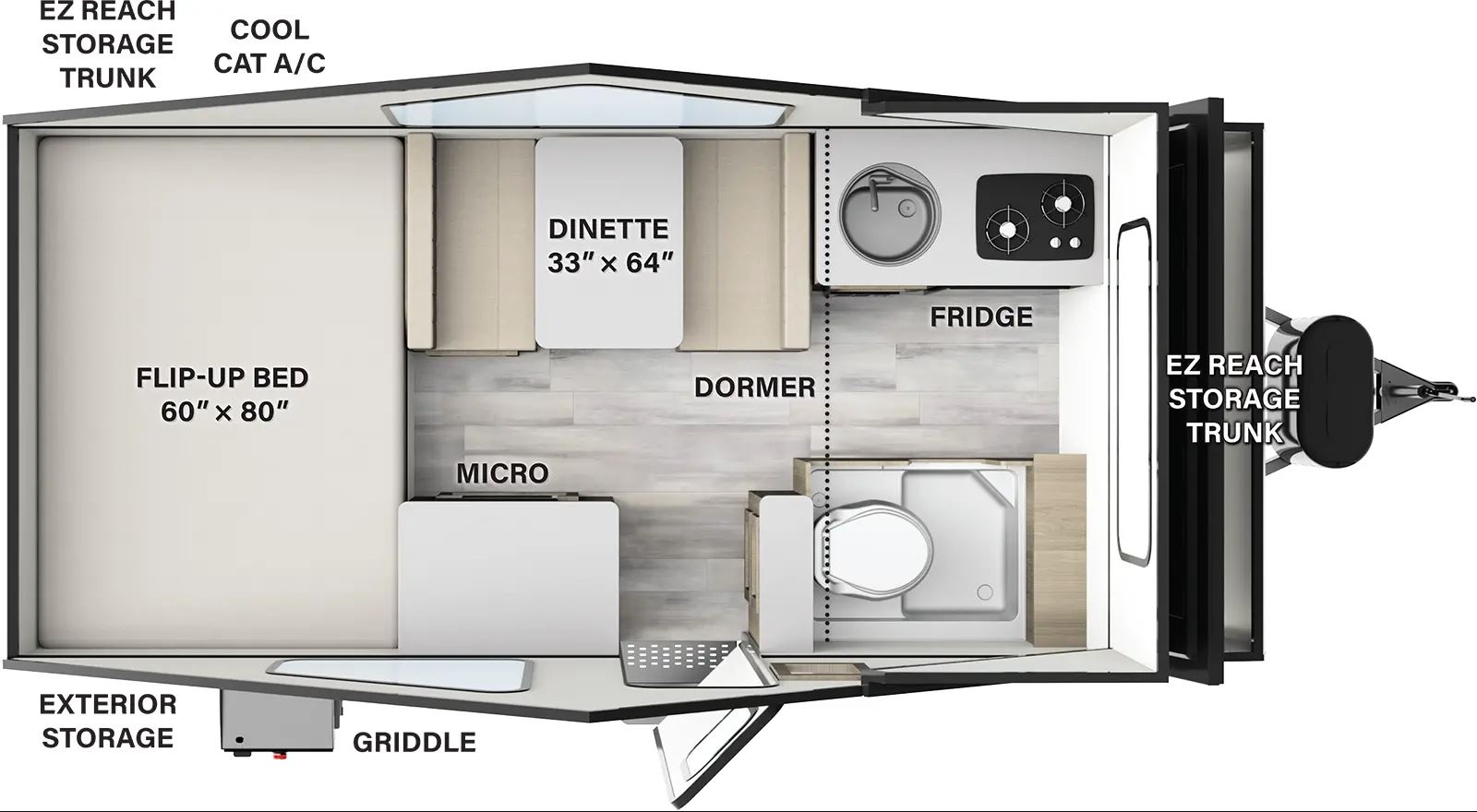 | | | | |
| --- | --- | --- | --- |
| Model Specs | A122S | A213HW | A214HW |
| Hitch Weight | 284 lb | 372 lb | 352 lb |
| UWW | 2,120 lb | 2,670 lb | 2,700 lb |
| CCC | 1,164 lb | 702 lb | 653 lb |
| Box Size | 12" | 14" | 14" |
| Ext Open Length | 18' 4" | 20' 4" | 20' 4" |
| Ext Closed Length | 18' 4" | 20' 4" | 20' 4" |
| Ext Closed Height | 5' 1" | 5' 8" | 5' 8" |
| Exterior Width | 84" | 84" | 84" |
| Bed | 54" x 80" | 30" x 74" (2 twins) | 60" x 60" |
Customization and Extras
Want to make your camper truly yours? Opt for a power front jack or a 40 Amp portable solar panel. And don't forget the Hard Side Package, which includes a roof vent fan, a spare tire, and a CO detector, among other cool features.
Ready for Your Next Adventure?
So, if you're looking for a camper that offers the best of both worlds - easy to tow like a tent camper but with the strength and comfort of a travel trailer - the Rockwood Hard Side Pop-Up Campers are just what you need.
Come visit us at Kunes RV and check out these incredible campers for yourself. Let's get you set up for your next amazing outdoor adventure!