The Holiday Rambler Endeavor is a luxury motor home built by the owned and operated by the Holiday Rambler company. The Holiday Rambler Endeavor stands as a testament to luxury and refinement in the world of motorhomes, meticulously crafted by the renowned Holiday Rambler company. This illustrious RV brand has carved a niche for itself in the industry, renowned not only for its generous and thoughtfully designed interiors but also for the impeccable quality of amenities it offers. Every inch of the Endeavor speaks of attention to detail, ensuring that occupants experience unparalleled comfort and sophistication during their travels.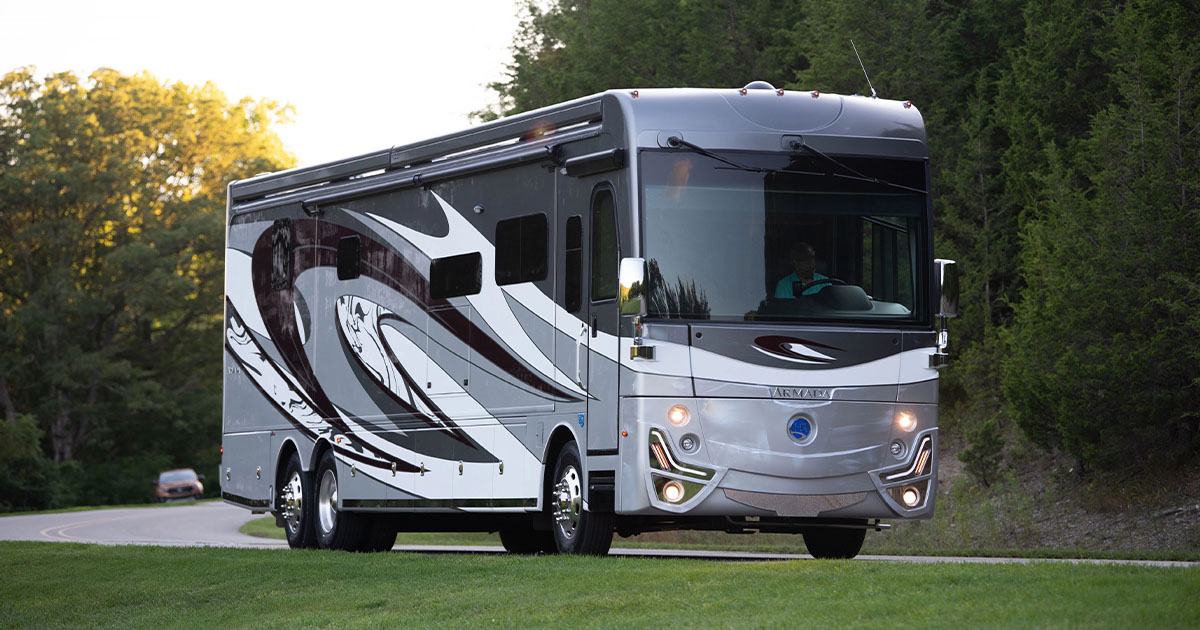 Holiday Rambler Endeavor Interior Features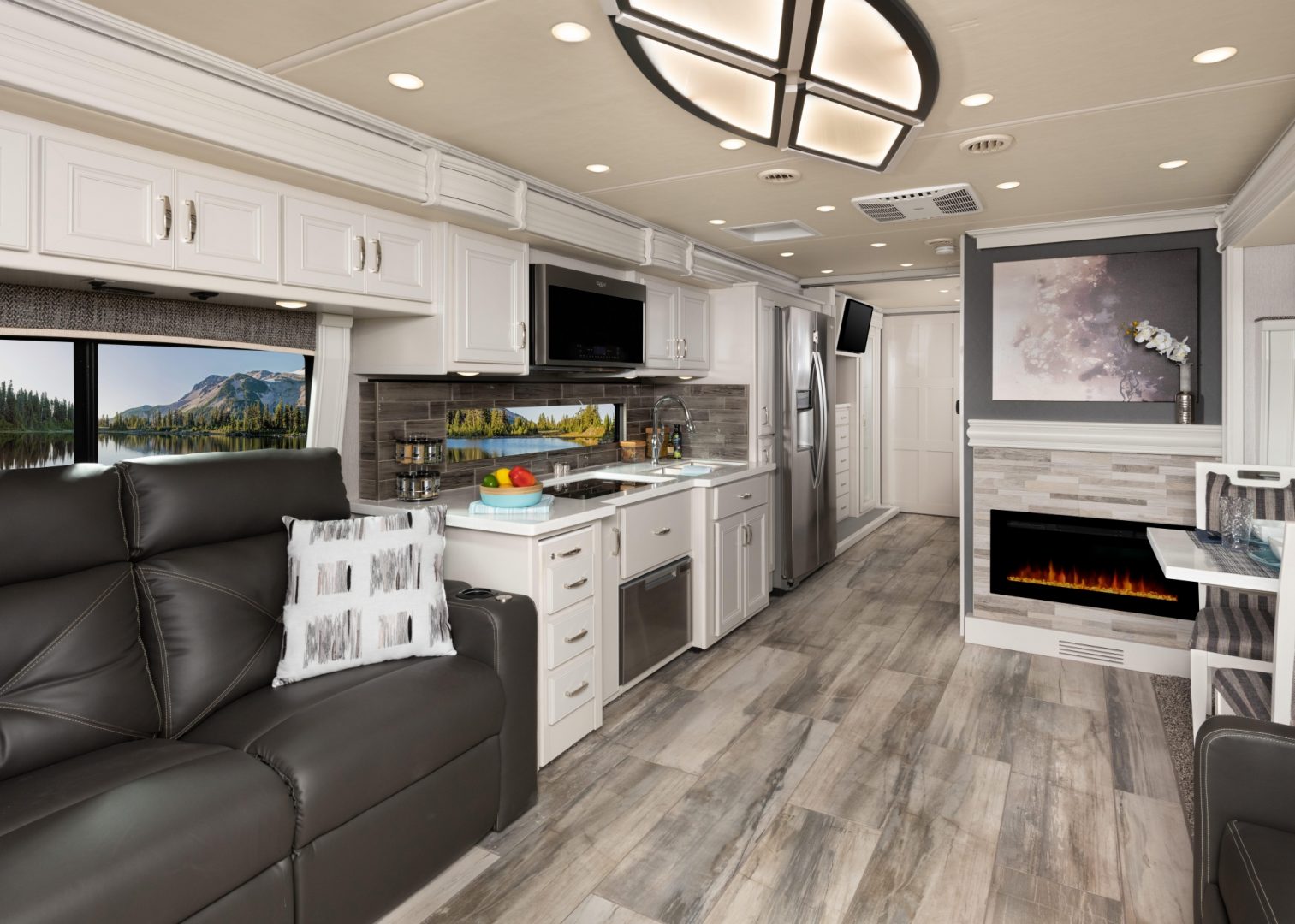 Holiday Rambler's Endeavor is known for its luxurious interior, which offers a blend of comfort, functionality, and style. Some of the typical interior features of the Endeavor are as listed below.
Living Area:
Soft-touch vinyl ceilings
Solid hardwood cabinetry and fascia
LED lighting
Large flat-screen TVs
Electric fireplace (in some models)
Residential-style furniture, including sofas and recliners
Ceiling fan
Central vacuum system
Kitchen:
Stainless steel residential refrigerator
Induction cooktop
Convection microwave oven
Solid surface countertops
Tile backsplash
Undermount stainless steel sink with high-rise faucet
Pantry for added storage
Bedroom:
King-size bed with memory foam mattress (some models might offer a queen)
TV in the bedroom
Large wardrobes and storage spaces
Washer and dryer (or preparations for them)
Nightstands with power outlets and USB ports
Bathroom:
Tile flooring
Solid surface vanity tops
Glass shower doors with skylight above
Porcelain toilet
Spacious medicine cabinet and storage
Bath-and-a-half models offer an additional toilet and sink setup, typically placed mid-coach
Entertainment:
Soundbar and Blu-ray player
Satellite ready (prep for Winegard satellite)
Multiplex wiring control system with touchscreen and app control
WiFi Ranger for internet connectivity
Climate Control:
Dual high-efficiency roof AC units with heat pumps
Aqua-Hot heating system for water and coach heating (often found in higher-end models)
Windows and Shades:
Dual-pane tinted frameless windows
Day/night roller shades or blinds
Power windshield shades and blinds
Flooring:
Porcelain tile flooring in living, kitchen, and bathroom areas
Carpeting in the bedroom (though this can vary)
Holiday Rambler Endeavor Exterior Features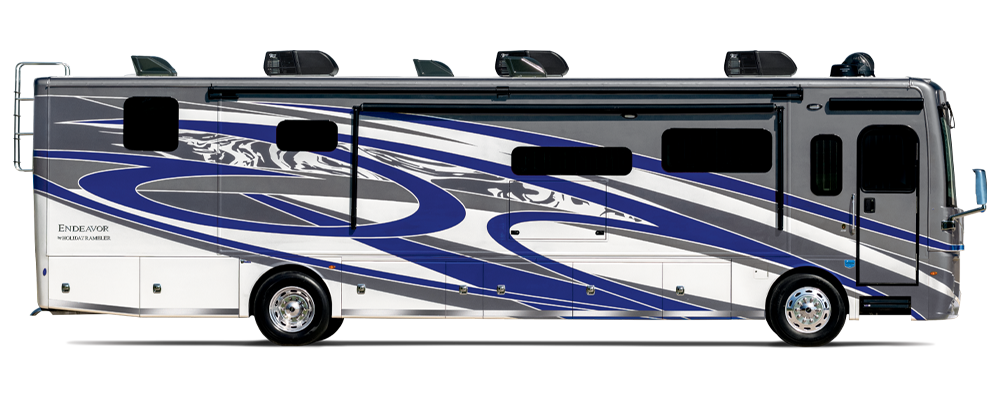 The Holiday Rambler Endeavor's exterior is designed to combine aesthetics, functionality, and durability. Here are some of the typical exterior features you'd find on an Endeavor.
Construction and Paint:
Full-body paint scheme, often with a clear coat for added protection and shine.
Aluminum frame for walls, floor, and ceiling.
Fiberglass front and rear caps.
Premium gel exterior vets with ducted caps.
Chassis and Engine:
Roadmaster chassis or Freightliner chassis depending on the year and model.
Rear diesel pusher configuration with powerful diesel engines.
Allison transmission.
Large aluminum wheels.
Slide-Outs:
Multiple slide-outs to increase living space, equipped with slide toppers.
Awnings:
Electric patio awning with LED lighting.
Slide toppers/awnings over slide-outs.
Windows:
Dual-pane tinted frameless windows that offer insulation and a sleek look.
Storage:
Large pass-through storage compartments.
Slide-out storage trays in some models.
Storage bays often have a lined and lit interior.
Utilities:
50-amp service with a power cord reel.
Onan diesel generator.
Aqua-Hot system or a similar water and heating solution.
Fresh, gray, and black water tanks with monitoring system.
Exterior shower.
Automatic hydraulic leveling system or air leveling system.
Entertainment:
Exterior TV with speakers.
Satellite dish prep.
Safety:
Rear and side-view cameras for easier driving and parking.
Anti-lock braking system (ABS).
Automatic traction control.
Collision avoidance system in some newer models.
Entry and Accessibility:
Keyless entry system.
Electric entry steps.
Power entry door awning.
Towing:
Hitch with a 7-pin plug for towing a car or trailer.
Tow rating can vary but is usually substantial given the power of the diesel engine.
Miscellaneous:
Exterior service station including water pump switch, exterior shower, and more.
Solar panel prep or installed panels.
Roof ladder for access.
Holiday Rambler Endeavor Safety Features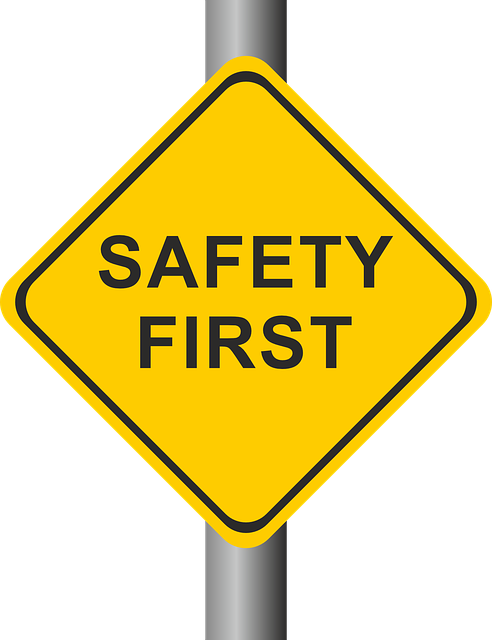 Safety is a crucial aspect for RV manufacturers, and the Holiday Rambler Endeavor incorporates several safety features to protect its occupants and ensure a comfortable driving experience.
Visibility and Cameras:
Rear-View Camera: Provides a clear view of the area behind the RV, essential when backing up.
Side-View Cameras: Activated with the turn signals, these offer a clear view of either side, aiding in lane changes and tight maneuvers.
Driving Systems:
Anti-Lock Braking System (ABS): Helps to prevent wheel lockup during hard braking, ensuring better control.
Automatic Traction Control: Helps prevent wheel slip during acceleration by adjusting the power output to the wheels.
Electronic Stability Control: Can detect and help reduce the chance of a rollover incident, especially important for large vehicles like RVs.
Cruise Control: Aids in maintaining a steady speed, reducing driver fatigue on long journeys.
Construction Safety:
Steel Bridge: Adds structural support, potentially offering better protection in case of an accident.
Fire Extinguisher: Standard in the cabin for immediate access.
Smoke Detector, Carbon Monoxide Detector, and LP Gas Detector: Essential for early warning of potential hazards inside the RV.
Tire Safety:
Tire Pressure Monitoring System (TPMS): Monitors the tire pressures and alerts the driver if any tire's pressure drops below or rises above recommended levels. Crucial for preventing blowouts and maintaining optimal fuel efficiency and handling.
Entry and Exit Safety:
Illuminated Entry Steps: Provide visibility during nighttime entry or exit.
Secure Handrails: Assist during entry and exit, reducing the risk of slips or falls.
Exterior Lighting:
High-Mounted Brake Lights: Ensures that vehicles behind can see the RV slowing down or stopping.
LED Clearance and Tail Lights: Provide bright, long-lasting illumination, making the RV more visible on the road.
Emergency Exits: Windows or roof hatches that can be used for evacuation in emergencies.
Collision Avoidance System (in some newer models): Utilizes sensors to detect potential obstacles and provides warnings to the driver. Some systems might also take corrective actions.
Central Locking System: Allows the driver to lock all external storage and entry doors from a single point, ensuring that everything is securely locked before driving.
Daytime Running Lights: Increase visibility during daylight hours, making the RV more noticeable to other vehicles.
While the Holiday Rambler Endeavor incorporates these and possibly other safety features, it's essential for drivers to familiarize themselves with the vehicle's operation, attend to regular maintenance, and practice safe driving habits.
Holiday Rambler Endeavor Power and Drivability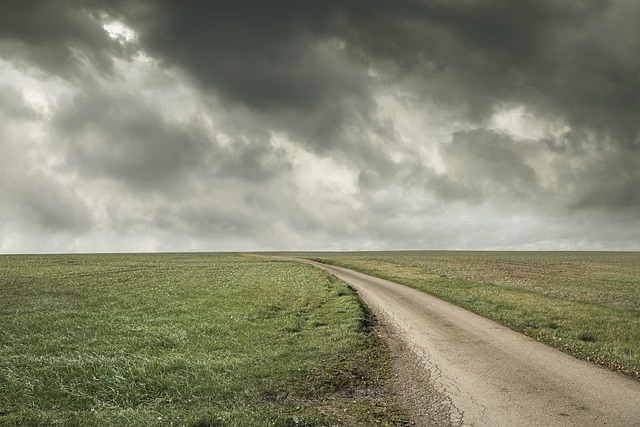 Here's an overview of the power, drivability, and some features of the Holiday Rambler Endeavor, though exact specs may vary by year and model: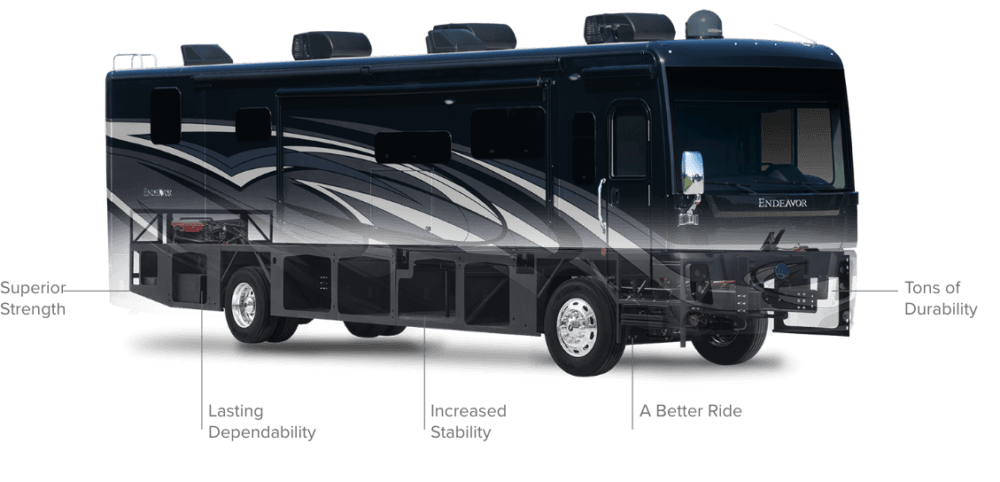 Powertrain:
Engine: The Endeavor has often been equipped with a Cummins diesel engine. Depending on the year and model, this can range from a 340 HP engine to more powerful variants, potentially exceeding 400 HP.
Transmission: Typically, it comes with an Allison 6-speed automatic transmission, known for its reliability and smoothness in heavy-duty applications.
Fuel Capacity: Depending on the specific model and year, the Endeavor might come with a fuel tank that holds around 100 gallons.
Drivability & Chassis Features:
Air Ride Suspension: This provides a smoother ride, reducing the impact of road imperfections.
Air Brakes: This gives you more confident stopping power especially when you're hauling a heavy load or towing.
Automatic Leveling Systems: These are typically hydraulic and ensure that the RV is stable when parked.
Exhaust Brake: Helps with slowing down, especially on descents, reducing the strain on the braking system.
Rear-View and Side-View Cameras: These greatly enhance visibility, making parking and tight maneuvers much safer and easier.
High-Traction Tires: Designed for both smooth highways and rougher terrains.
Power Steering: Assists in easy handling and maneuverability.
Other Features:
Generous Storage: The Endeavor often comes with expansive pass-through storage compartments.
Towing Capacity: Depending on the model, the Endeavor can tow a considerable amount, making it ideal for those who want to tow a vehicle or trailer behind them.
Luxury Interior: The Endeavor, being one of the premium models, comes with high-quality interior fittings, floors, appliances, and entertainment systems.
General Drivability: Considering its size, the Holiday Rambler Endeavor offers a smooth driving experience. Its powertrain is designed to climb hills and navigate highways effortlessly. Newer models likely have integrated modern technologies to aid in safe and convenient driving. However, if you're new to driving an RV of this size, it might be worthwhile to invest in a driving course or practice in open areas.
Holiday Rambler Endeavor Floor Plans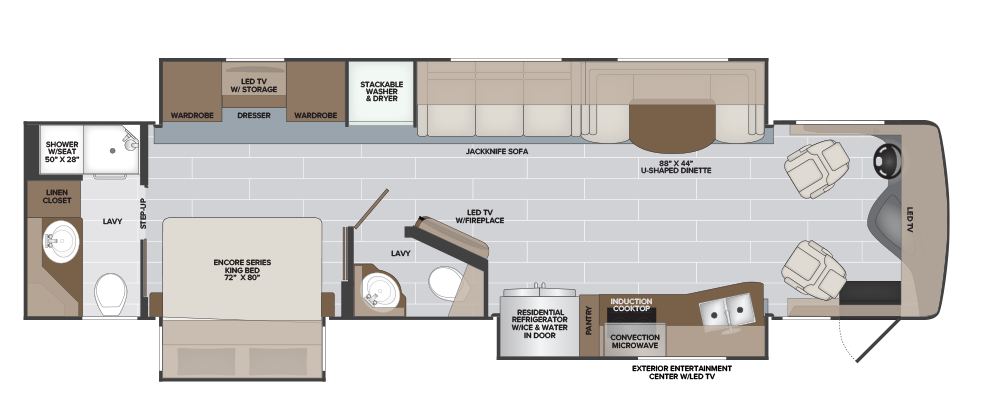 Holiday Rambler typically offers multiple floor plans for its Endeavor model to cater to various preferences and needs of RV enthusiasts. These floor plans might vary based on the model year and any updates or changes the company introduces.
Length Variation: Depending on the desired length of the motorhome, floor plans can range from shorter lengths ideal for maneuverability to longer lengths that offer more living space.
Slide-Outs: The number and configuration of slide-outs can vary. Some floor plans might offer two, while others might have up to four, dramatically expanding the interior space when parked.
Bedroom Configuration: While most floor plans might feature a rear master bedroom with a king-size bed, some might offer a queen-size bed instead. Some models might also have a walk-in closet or additional storage in the bedroom.
Living Area: This area might feature a sofa, which could be a sleeper sofa, theater seating, or recliners. Depending on the floor plan, you might also find a dinette, a free-standing table and chairs, or even a computer workstation.
Kitchen Configuration: Some floor plans might have a kitchen island, providing extra counter space and storage. Others might offer a more traditional layout without the island.
Bathroom Setup: There are floor plans with a single full bathroom, while others might feature a bath-and-a-half setup, adding convenience, especially when hosting guests.
Additional Sleeping Areas: Beyond the primary bedroom, some floor plans might include a drop-down queen bed over the driver/passenger seats or bunk beds, especially appealing to families or those who frequently have guests.
Washer/Dryer: Some floor plans come with a washer and dryer, while others might simply have the preparations for them, allowing you to add them later if desired.
Entertainment: Depending on the floor plan, the positioning and size of TVs, fireplaces, and other entertainment features might vary.
Storage: The arrangement and size of storage areas, both inside and in the exterior bays, might differ based on the floor plan.
Given the evolving nature of RV designs and the introduction of new features over time, the floor plans and offerings for the Holiday Rambler Endeavor might change from year to year.