The Forest River Arctic Wolf is a brand of recreational vehicles (RVs), specifically a type of fifth wheel camper. Forest River Inc. is a large company known for manufacturing various RVs, motorhomes, buses, and cargo trailers. The Arctic Wolf line is part of their Cherokee series and is designed to offer a combination of comfort, luxury, and functionality.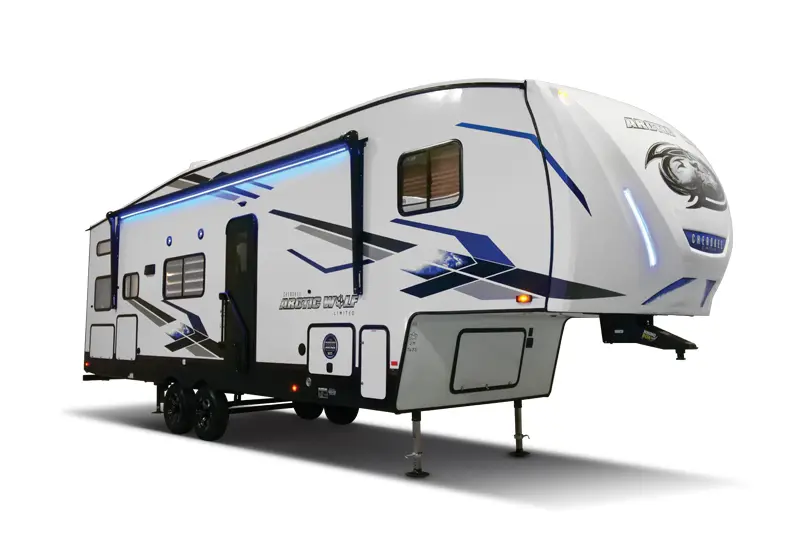 Forest River Arctic Wolf Seasonal Adaptability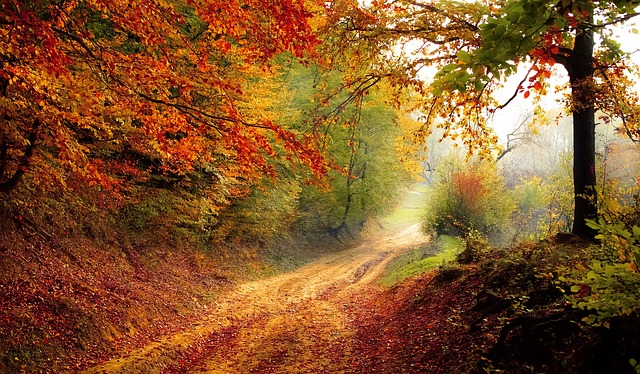 The Forest River Arctic Wolf, being a line of fifth-wheel RVs designed for a range of camping experiences, typically includes features that enhance its seasonal adaptability. This makes these RVs suitable for use in various climates, including both hot summers and cold winters. The seasonal adaptability features often found in Arctic Wolf models include:
Insulation: Enhanced insulation is a critical aspect of making a Forest River RV suitable for all seasons. The Arctic Wolf series usually features better insulation in the walls, roof, and floor, which helps in keeping the interior warm during winter and cool during summer.
Heated and Enclosed Underbelly: A heated underbelly prevents freezing of tanks and plumbing in cold weather, which is essential for winter camping. The enclosed underbelly also adds an extra layer of protection against road debris and helps in temperature control.
Double-Pane Windows: Some models may be equipped with double-pane windows, which provide better insulation than single-pane windows, reducing heat loss in winter and heat gain in summer.
HVAC Systems: Good quality heating, ventilation, and air conditioning systems are crucial. The Arctic Wolf models typically come with efficient air conditioners and heating systems, often including a fireplace, which can be particularly cozy in cold weather.
Roof and Slide Toppers: These additions help in protecting the RV from heavy rain, snow, and debris, thereby extending the lifespan of the roof and slides.
Ventilation: Adequate ventilation options are necessary to manage condensation and maintain air quality, especially when the RV is sealed tight for thermal efficiency.
Weather-Resistant Exterior: The materials used for the exterior are typically designed to withstand various weather conditions, from hot sun to freezing temperatures.
Sun Protection: Awnings and other forms of sun protection are often included to provide shade and reduce heat buildup inside the RV during sunny days.
It's important to note that while these features enhance the seasonal adaptability of the Arctic Wolf, extreme weather conditions might still pose challenges. If you're planning to use an RV in particularly harsh winter or summer conditions, additional preparations and precautions may be necessary.
Forest River Arctic Wolf Spacious Interiors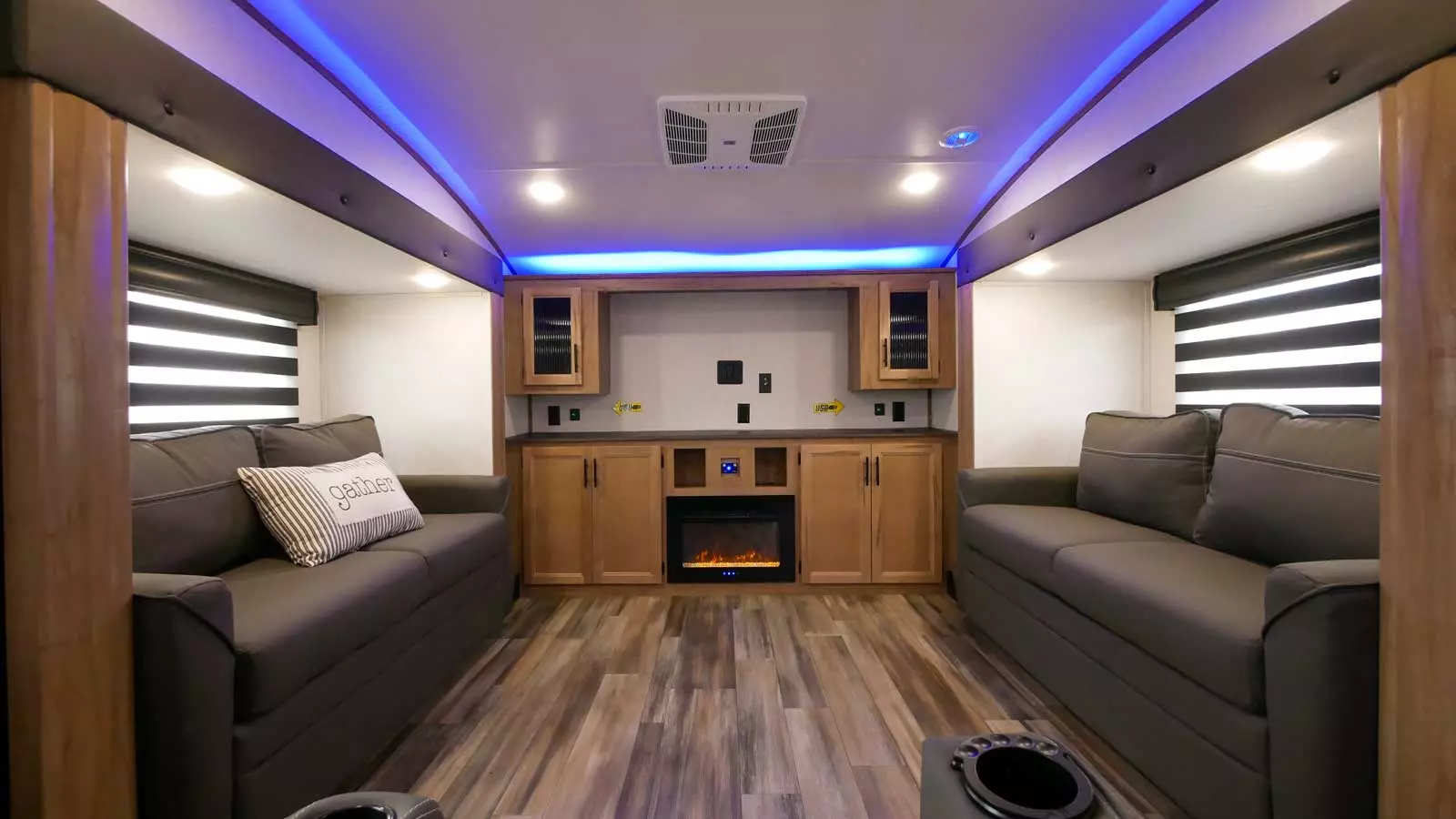 The Forest River Arctic Wolf series of fifth-wheel RVs is known for its spacious and comfortable interiors, designed to accommodate families and groups with ease. These RVs typically feature a thoughtful layout that maximizes living space and provides a home-like atmosphere. Key aspects of the spacious interiors in the Arctic Wolf series include:
Slide-Outs: Many Arctic Wolf models come with one or more slide-out sections. Slide-outs are sections of the RV that can be extended outward when the vehicle is parked, significantly increasing the living area. These often house dining areas, sofas, or even beds, providing much more space than would otherwise be available in a standard RV footprint.
Living Area: The living spaces in Arctic Wolf RVs are generally designed for comfort and socializing. This often includes large, comfortable seating areas, entertainment centers with flat-screen TVs and sound systems, and even electric fireplaces in some models.
Kitchen: The kitchens in these RVs are usually quite generous, featuring full-size appliances like a refrigerator, stove, and microwave. Counter space is often ample, and there's usually enough room for meal prep and cooking, which is a significant advantage for long trips or full-time RV living.
Bedroom Space: The bedrooms, particularly the master suite, are typically designed for comfort. They often include queen or king-size beds, ample storage space for personal items, and sometimes even dedicated bathroom access.
Additional Sleeping Areas: Besides the main bedroom, many models offer additional sleeping options like bunk beds, loft sleeping areas, or convertible sofas. This makes the Arctic Wolf a good choice for larger families or groups.
Bathroom Facilities: The bathrooms in the Arctic Wolf series are usually well-appointed with features such as showers, toilets, a bathroom space saver, , a cabinet and porcelain stool, and sufficient storage space for toiletries and towels. Some models might have multiple bathrooms, a bathroom with medicine cabinet, or a bath-and-a-half layout.
Storage Solutions: Effective storage solutions are key to a spacious interior, and Arctic Wolf RVs typically include a variety of storage options like overhead cabinets, oven large pantry, wardrobes, under-bed storage, queen bed with overhead cabinet, and sometimes even outdoor storage compartments such as an armored underbelly tank enclosure.
Windows and Lighting: Large windows and effective interior lighting also contribute to a sense of spaciousness. Good natural light during the day and well-placed lighting fixtures for nighttime can make the interior feel open and airy.
Forest River Arctic Wolf Safety Features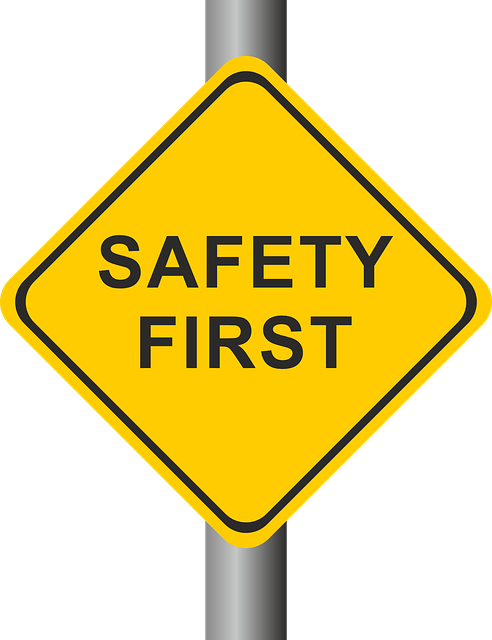 Safety is a crucial aspect of any recreational vehicle, and the Forest River Arctic Wolf series includes several features designed to ensure the safety and security of its occupants. While specific features can vary between different models and production years, common safety features in these RVs typically include:
Smoke Detectors and Fire Extinguishers: Smoke detectors are standard in RVs, and fire extinguishers are usually accessible in the kitchen area or other strategic locations.
Carbon Monoxide and LP Gas Detectors: These detectors are critical for preventing poisoning from carbon monoxide and leaks from liquid propane gas systems, which are commonly used for heating and cooking.
Emergency Exit Windows: RVs are equipped with emergency exit windows that can be quickly opened from the inside in case of an emergency.
GFI Protected Electrical Circuits: Ground Fault Circuit Interrupters (GFCI) are typically installed in areas where electricity and water may come into contact, such as the kitchen and bathroom, to prevent electrical shocks.
Sturdy Construction: The build quality and materials used in the construction of the Arctic Wolf series contribute to its overall safety. This includes strong framing and secure fastenings for internal fixtures.
Anti-Lock Braking System (ABS): If the RV is equipped with its own braking system, it likely includes ABS to prevent the wheels from locking up during an emergency braking situation, thereby maintaining vehicle control.
Towing Safety Features: For fifth-wheel trailers like the Arctic Wolf, safety features related to towing are important. This includes secure hitching systems, proper lighting, one touch auto leveling, and signal connections to the towing vehicle, and sometimes systems like electronic sway control.
Well-Designed Interior Layouts: Safety in movement around the RV is also a consideration. This means ensuring there are no sharp corners or obstacles that could cause injury as well as prep seamless counter tops, especially in a moving vehicle.
Safety Glass in Windows: The use of safety glass in windows helps prevent injuries in case of a breakage.
Stable and Durable Steps and Handrails: Secure entry steps and handrails are important for safely entering and exiting the RV.
Bright Exterior Safety Light: Good lighting around the RV helps prevent accidents when moving around the campsite at night.
Forest River Arctic Wolf Smart Technology

The Forest River Arctic Wolf series, like many modern RVs, incorporates smart technology features to enhance the convenience, comfort, and overall camping experience. These technological advancements often focus on automation, connectivity, and control, making the RV lifestyle more accessible and enjoyable. Here are some common smart technology features you might find in the Arctic Wolf models:
Central Control Systems: Many RVs now include a central control system and smart monitor panel that allows you to monitor and manage various aspects of the RV from a single panel. This can include controlling slide-outs, awnings, lighting, and the HVAC system.
Mobile App Integration: Some models offer integration with mobile apps, allowing you to control and monitor RV functions from your smartphone or tablet. This can include features like remote control of heating and cooling, checking tank levels, or even operating slide-outs and lights remotely.
Entertainment Systems: Modern entertainment options, including smart TVs, integrated sound systems, and sometimes outdoor entertainment setups, are common. These systems can often connect to smartphones or streaming devices for a personalized entertainment experience.
Wi-Fi and Connectivity Enhancements: To keep you connected on the road, some Arctic Wolf models may include Wi-Fi boosters or pre-wiring for satellite and cable TV. Enhanced cellular connectivity options might also be available to ensure internet access even in remote locations.
Electronic Leveling Systems: Automated leveling systems can be a significant convenience feature, allowing for easy setup on uneven terrain with just the push of a button.
Rearview and Side Cameras: For easier and safer maneuvering, especially when towing, rearview and side cameras can be invaluable. These may be integrated with the vehicle's display or have a separate monitor.
Energy Management Systems: Smart systems can help manage energy usage, especially important for boondocking (camping without hookups). This can include monitoring battery levels, solar panel inputs, and generator usage.
Safety and Monitoring Systems: This can include tire pressure monitoring systems, which are crucial for safe towing, and security systems like motion sensors or alarms.
Automated Lighting: LED lighting with dimmer controls or automated settings for cabinet motion sensing, indoor ,and outdoor lights add both to the convenience and ambiance of the RV.