Are you dreaming of the perfect family getaway in a cozy bunkhouse camper? Get ready to explore new horizons as you dive into the world of bunkhouse travel trailers! In this post, we will show you everything you need to know about these amazing recreational vehicles, from understanding their features and benefits to choosing the best model for your family. So buckle up and get ready for the adventure of a lifetime!
Key Takeaways
Discover the perfect bunkhouse camper under 35 feet for your family with our handpicked selection of seven exciting models!
Embrace the benefits of a bunkhouse camper - extra sleeping space, efficient use of space & affordability for an ideal home away from home!
Explore financing options and create a budget to get ready to go camping in style!
Understanding Bunkhouse Campers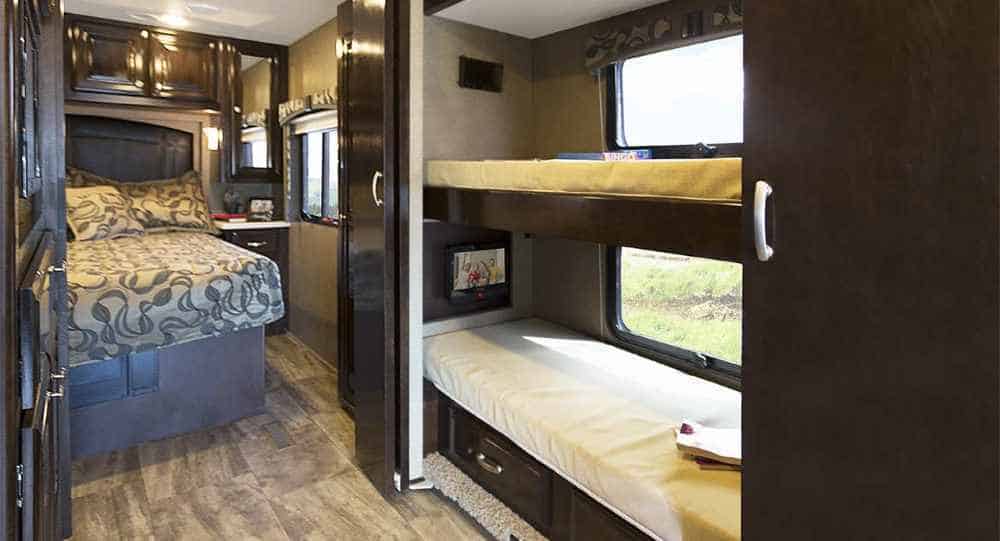 Families who love to travel and explore the great outdoors together often favor travel trailer bunkhouse camper options, including fifth wheels and travel trailers. These travel trailers feature an extra bedroom with bunk beds, offering both privacy and space on your journeys. It's no wonder that kids love bunk beds in these cozy travel trailer accommodations.
Bunkhouse travel trailers come in various sizes, accommodating small, medium, or large groups, and they can have double, triple, or even quad bunks in a bunkhouse travel trailer. Among the available travel trailer models, travel trailer bunkhouse models cater to different preferences and needs, making the travel trailer bunkhouse RV an ideal choice for families and groups
Key Features of a Bunkhouse Camper
The key features of bunkhouse campers include:
Separate sleeping areas
Versatile floor plans
Additional storage options
Some models even offer pillow-top memory foam mattresses in the main bedroom and guard rails on bunks for added safety.
In these campers, storage takes on significant importance, providing dedicated space for everyone's clothing, along with sufficient room for food, entertainment items, and other necessities.
Benefits of Choosing a Bunkhouse Camper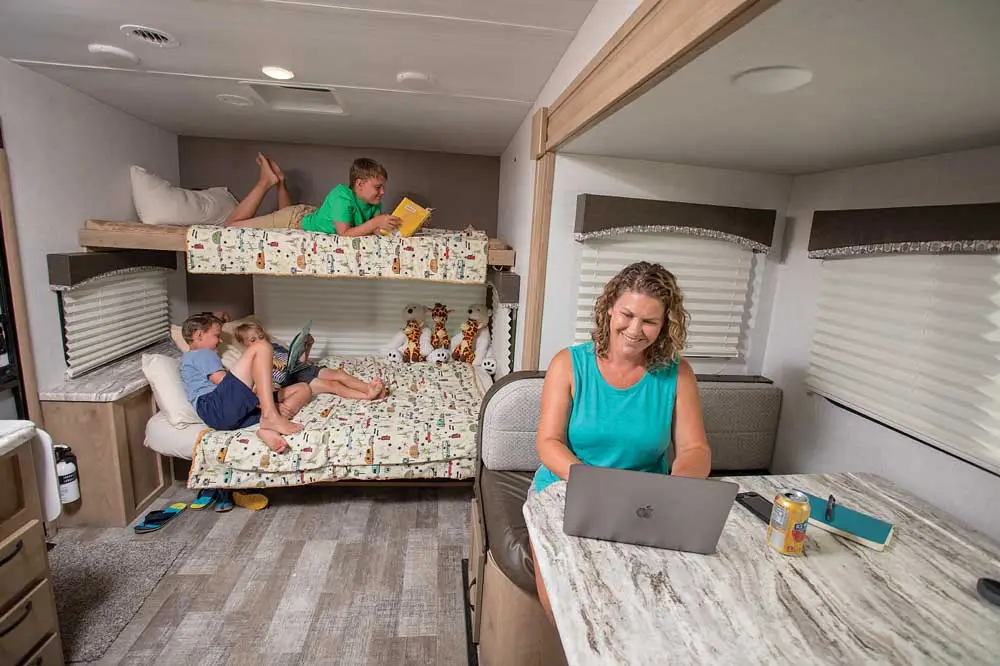 Choosing a bunkhouse camper comes with numerous benefits, including increased sleeping capacity, efficient use of space, and affordability. These campers provide extra sleeping space for kids, extra storage, and additional features, giving families the privacy and space they need during their travels.
So, whether you're planning a weekend getaway or a cross-country road trip, a bunkhouse camper is the perfect home away from home!
Factors to Consider When Choosing a Bunkhouse Camper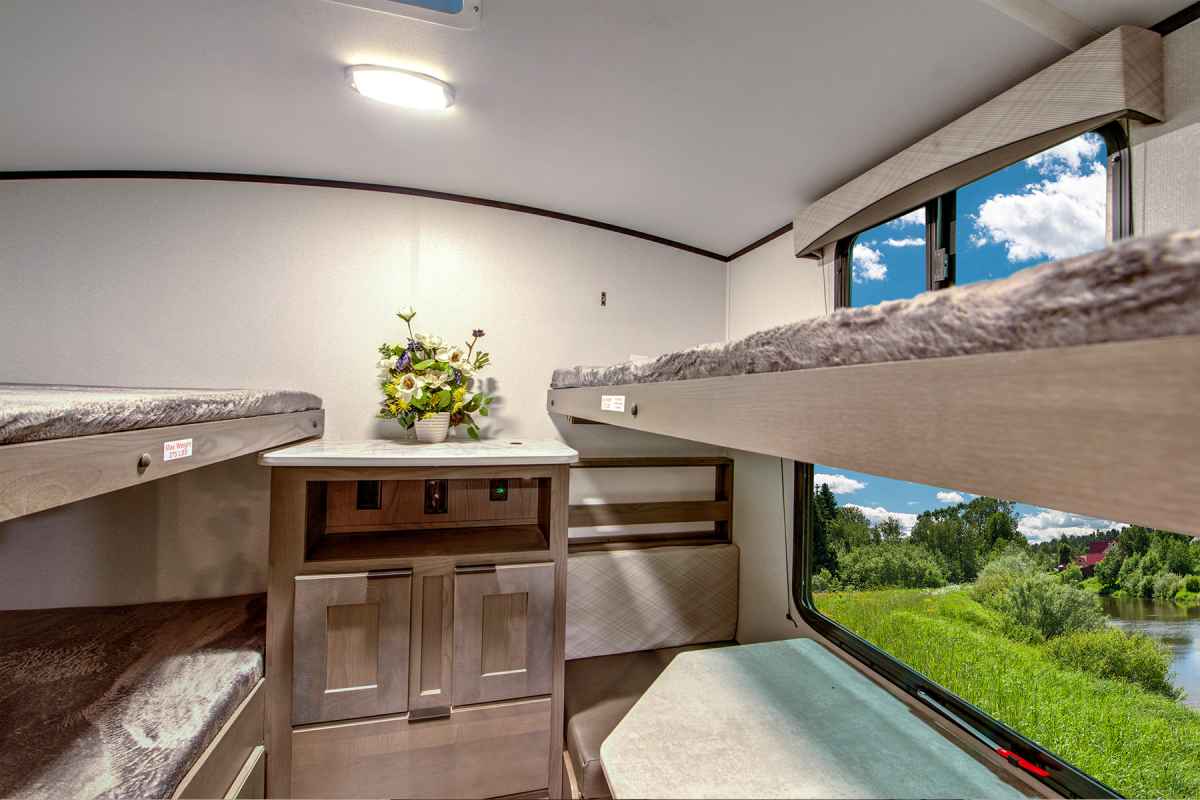 Several factors must be considered when selecting the ideal bunkhouse camper, including the size and weight, sleeping capacity and layout, as well as storage and amenities.
Size and Weight
Considering the size and weight of a bunkhouse camper is crucial as these elements can influence towing capabilities and fuel efficiency. A larger bunkhouse camper provides more living space and sleeping capacity, while a lighter camper ensures easier towing and better fuel efficiency on the road.
Make sure that your vehicle is capable of safely towing the weight of the bunkhouse camper, and consider the size in relation to the number of people who will be using it.
Sleeping Capacity and Layout
Sleeping capacity and layout should be carefully considered to make sure the camper can comfortably accommodate the entire family or group. Bunkhouse campers typically have two or more sleeping areas, which can accommodate larger families or groups, making them a popular choice for families with kids who love bunk beds.
Therefore, consider the number of individuals you'll be traveling with when selecting a bunkhouse camper, and make sure there's sufficient sleeping space for everyone.
Storage and Amenities
The storage and amenities offered by a bunkhouse camper are vital factors in your choice, given their ability to elevate the overall camping experience. Look for campers with plenty of storage compartments, cabinets, and closets to accommodate your camping gear, clothes, and other essentials.
Additionally, great amenities for your recreational vehicle include:
A fully equipped kitchen
Bathroom facilities
Comfortable sleeping arrangements
Entertainment options
Outdoor features like awnings or outdoor kitchens
These amenities contribute to your comfort and convenience while on the road and at the campsite.
Top Bunkhouse Camper Models Under 35 Feet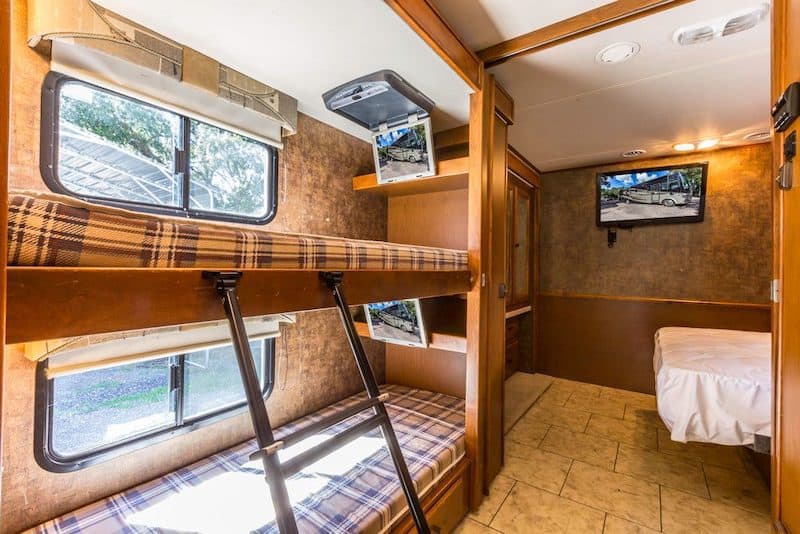 We've handpicked seven top models under 35 feet to assist you in finding the ideal bunkhouse camper for your family. Each model comes with unique features and benefits, catering to a range of needs and preferences.
From lightweight models to luxury options, there is something for everyone. The Forest River Wildwood X.
Jayco Jay Flight SLX 8 264BH
The Jayco Jay Flight SLX 8 264BH stands out with its spacious layout and sleeping capacity for up to 10 people, making it perfect for large families or groups. This popular bunkhouse camper features a semi-private bedroom with a queen bed, a dinette that converts into a bed, and a bunkhouse with two double beds.
And with ample storage and a full kitchen, you'll have everything you need for a comfortable and enjoyable camping experience.
Dutchmen Aspen Trail 2340BHS
The Dutchmen Aspen Trail 2340BHS offers a comfortable living space with the following features:
Private bedroom with a queen-size bed
Rear corner bathroom
Outdoor kitchen
Double-size bunks
Pass-through storage
This camper provides all the essentials for a great family getaway.
Its total length of 27.83 ft and hitch weight of 609 lbs make it easy to tow and maneuver on the road.
Palomino Puma 31BHSS
If you're planning an extended trip with your family, the Palomino Puma 31BHSS might be the perfect choice for you. This bunkhouse camper features a large bunkhouse, outdoor kitchen, and ample storage space for all your camping gear.
With a length of 38' 4'', an interior height of 82'', and a base weight of 7673 lbs, the Puma 31BHSS offers plenty of space for everyone to relax and enjoy the great outdoors.
Venture RV SportTrek ST320VIK
The Venture RV SportTrek ST320VIK boasts the following features:
Unique floor plan with a private bunkroom, island kitchen, and outdoor entertainment area
Dual entry doors
Bunkhouse
Front private bedroom
Kitchen island
Tufted dinette cushions
5/8" tongue & groove plywood floor decking
Angled stabilizer jacks
These features provide a comfortable and enjoyable camping experience.
It is designed to provide a luxurious camping experience with features such as a residential-style kitchen in luxury travel trailers, offering a range of luxury models to suit different preferences.
Gulf Stream Ameri-Lite 279BH
For those who prefer a lightweight option, the Gulf Stream Ameri-Lite 279BH is a great choice. With a spacious bunkhouse, outdoor kitchen, and ample storage, this camper provides all the essentials for a fun and memorable family vacation.
Its length of 32'6" and hitch weight of 810 lbs make it a manageable option for towing and maneuvering on the road.
CrossRoads Zinger 290KB
The Crossroads Zinger 290KB offers a private bunk room, outdoor kitchen, and a spacious living area for family gatherings. With a sleeping capacity of up to 10 people, this bunkhouse camper is perfect for large families or groups.
Its unique layout includes a private bunk room, outdoor kitchen, and a spacious living area, making it an ideal choice for family trips and get-togethers.
Starcraft Super Lite 242RL
Ideal for small families, the Starcraft Super Lite 242RL features a rear living area, private bedroom, and bunk beds. With its compact size and comfortable sleeping arrangements, this camper provides a cozy and inviting space for families to enjoy their time together on the road.
Its rear living area is perfect for relaxing after a day of adventure, while the private bedroom and bunk beds ensure everyone has a comfortable place to rest at night.
Renting vs Buying a Bunkhouse Camper
Both renting and buying a bunkhouse camper have their pros and cons. By considering the advantages and disadvantages of each, along with your personal preferences and camping needs, you can make an informed decision.
Renting a bunkhouse camper can be a great option for those who don't have a bunkhouse.
Pros and Cons of Renting
Renting a bunkhouse camper offers several benefits, such as lower upfront costs, flexibility, and the opportunity to try different models before committing to a purchase.
However, renting may lack personalization and long-term cost-effectiveness due to recurring rental fees and limited availability.
Pros and Cons of Buying
On the other hand, buying a bunkhouse camper provides ownership, customization, and potential for long-term savings.
However, purchasing a camper may require a larger initial investment and ongoing maintenance costs.
Ultimately, the decision to rent or buy a bunkhouse camper depends on your personal preferences, financial situation, and camping needs.
Financing and Budgeting for a Bunkhouse Camper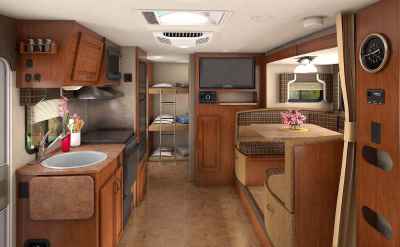 Carefully evaluating financing options and creating a realistic budget are vital steps in the process of purchasing a bunkhouse camper. With various strategies available, it's key to choose a financing option that suits your needs, ensuring a seamless and enjoyable camping experience.
When financing a bunkhouse camper, there are several options to consider. You can finance it.
Financing Options
When it comes to financing a bunkhouse camper, there are several options to consider, such as loans, leases, and dealer financing. Each option has its own benefits and drawbacks, so it's important to compare rates, terms, and requirements before making a decision.
Budgeting Tips
To ensure a successful and enjoyable bunkhouse camper purchase, set a realistic budget that takes into account the cost of the camper itself, as well as additional costs such as insurance, registration, and maintenance.
Also, consider the cost of fuel, camping fees, and other expenses associated with owning and operating a bunkhouse camper. And don't forget to research available discounts and promotions that can help you save on your purchase.
Summary
In conclusion, bunkhouse campers offer an incredible opportunity for families and groups to travel and explore the great outdoors in comfort and style. By considering key factors such as size, weight, sleeping capacity, and amenities, as well as weighing the pros and cons of renting vs buying, you can make an informed decision that best suits your needs and preferences. So pack your bags, gather your family, and hit the road in your very own bunkhouse camper for the adventure of a lifetime!
Frequently Asked Questions
What is a bunkhouse style camper?
Experience the joys of camping in a towable travel trailer bunkhouse, featuring comfortable bunk beds and available in a range of sizes and weights, from luxury models to more modest designs!
What campers have a bunk room?
Discover the perfect bunkhouse travel trailer for your next outdoor adventure with these 6 top-rated models under 35 feet, like the Cruiser Embrace EL280, Grand Design Transcend Xplor 265BH, Winnebago Micro Minnie 2306BHS and more!
Is there a camper that sleeps 6?
Yes, the Prime Time Avenger 27RBS is a great camper for families of six! It features a private bedroom and lots of space to rest and relax - perfect for your next trip.
What campers are 1500 lb?
Discover the amazing lightweight campers under 1,500 lbs. and enjoy your next trip with ease!
Models like the Happier Camper HC1, Rockwood Geo Pro 12RK, MeerKat Trailer, and Alaskan Campers Truck Camper Cabover are great options to explore!
What factors should I consider when choosing a bunkhouse camper?
When choosing a bunkhouse camper, make sure to consider size, weight, sleeping capacity, layout, storage, and amenities - all of which will determine if it's the right fit for you!