Explore the Forest River R-Pod Camper
The Forest River R-Pod is a lightweight camper travel trailer designed to provide an optimal camping experience. With its sleek and modern design, the R-Pod is perfect for those looking for a comfortable and reliable RV option without sacrificing on style. With a variety of floor plans, the R-Pod gives you the freedom to customize your camping experience to your exact needs. From the fully-equipped kitchen to the comfortable bedrooms and bathrooms, the R-Pod has everything you need to make your camping trip one to remember.
Why Choose the R-Pod?
The R-Pod is the perfect camper for those who want to enjoy the comfort of an RV without the hassle of driving a larger vehicle. With its lightweight design, the R-Pod is easy to tow and can be taken virtually anywhere. Plus, the R-Pod is fully equipped with everything you need for a comfortable camping experience. From the spacious kitchen to the convenient storage spaces, the R-Pod is designed for the ultimate camping experience.
Features and Specifications
The Forest River R-Pod comes in a variety of floor plans and sizes, so you can customize your RV to fit your exact needs. The R-Pod comes with a variety of features, including a full kitchen with a refrigerator, stove, and microwave; comfortable bedrooms and bathrooms; and plenty of storage space. All models are equipped with a heating and cooling system and a water heater, so you can stay comfortable no matter the temperature outside.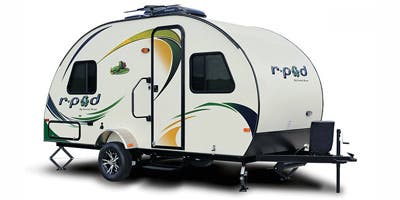 R-Pod Maintenance
It's important to keep your R-Pod in top condition, so regular maintenance and servicing are essential. You should always check the tires and brakes before each trip, and make sure to keep up with regularly scheduled maintenance. This includes checking the fluids, inspecting the exterior, and ensuring all systems are functioning properly. With proper maintenance, your R-Pod will provide years of reliable service and enjoyable camping trips.