Enjoy the Open Road in a Fifth Wheel RV
Fifth wheel recreational vehicles offer a unique travel experience for those looking to explore the country in style and comfort. With a fifth wheel RV, you can enjoy the convenience of a home away from home with all the amenities of a traditional motorhome. Fifth wheel RVs also offer more living space than other types of RVs, making them ideal for families or those who want a bit more room to stretch out.
Kunes RV is your Fifth Wheel Dealer and Fifth Wheel Dealership
A fifth wheel RV is a superb investment for avid travelers seeking the ideal fusion of comfort and mobility. With its spacious design, home-like amenities, and ease of towing stability, it's a top-tier choice for extended road trips, full-time RV living, or luxurious camping. The unique hitch design ensures a smoother ride, and the variety of floor plans means you can find the perfect match for your travel needs. Find out more at your local Kunes RV 5th Wheel Dealer
What are the Benefits of a Fifth Wheel RV?
Fifth wheel RVs offer a number of advantages over other types of RVs. They are typically more spacious, allowing for more comfortable living and entertaining areas. Fifth wheel RVs also provide more storage space than other types of RVs, making them ideal for extended trips or those who are traveling with a lot of gear. Fifth wheel RVs also tend to be easier to tow and more stable on the road than other types of RVs.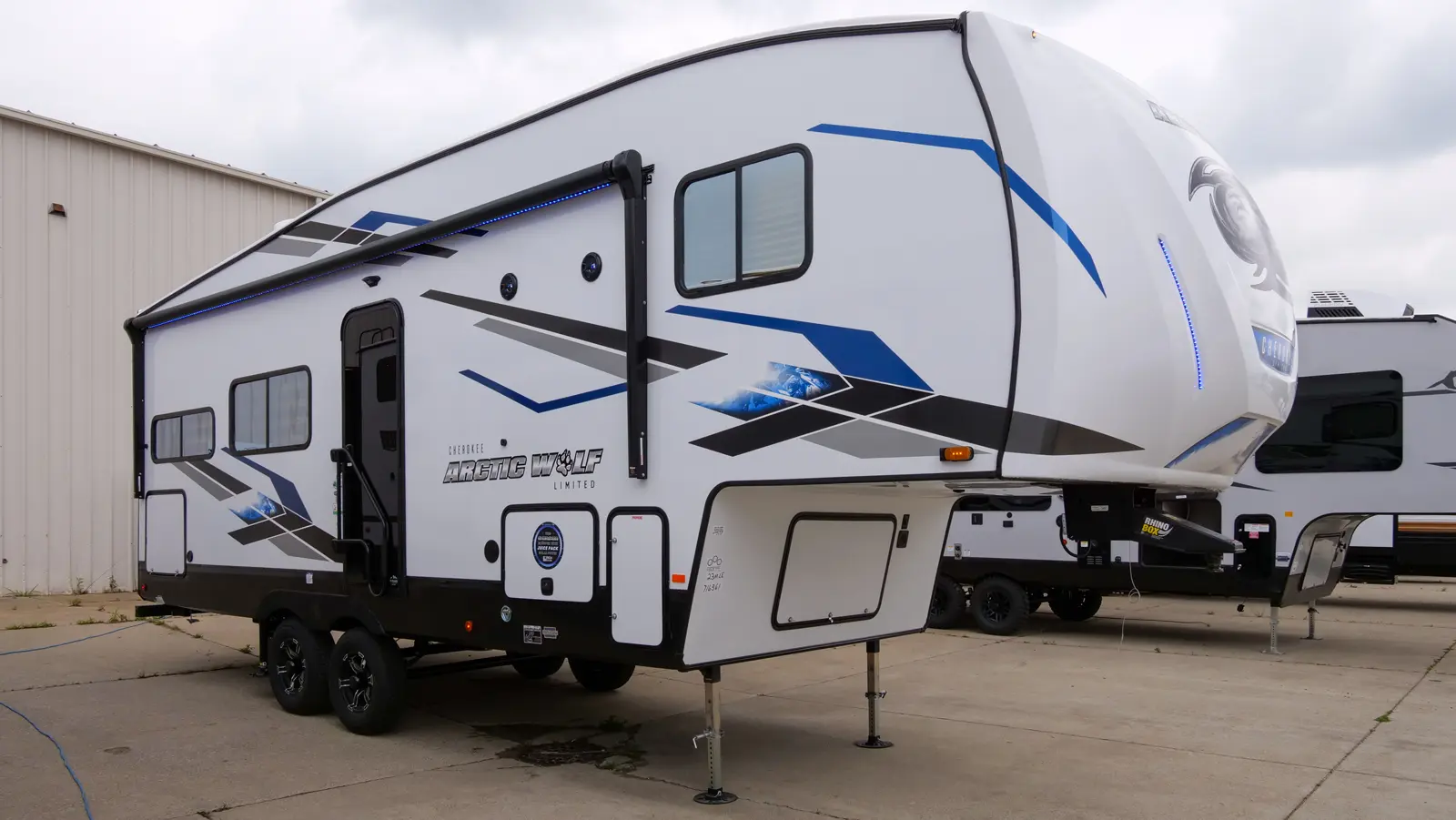 Forest River Arctic Wolf Fifth Wheel
The Forest River Arctic Wolf offers a blend of comfort, convenience, and durability, making it a standout choice in the realm of mid-sized fifth wheels. Engineered for both the chill of winter and the heat of summer, it's a versatile travel companion that delivers year-round enjoyment. Its thoughtful design prioritizes spaciousness and modern amenities, ensuring every excursion is as relaxing as it is thrilling. Whether you're a family seeking adventure or a couple indulging in the wanderlust lifestyle, the Arctic Wolf is designed to be your cozy den on wheels, wherever the journey may lead. If you want to read more check out the link below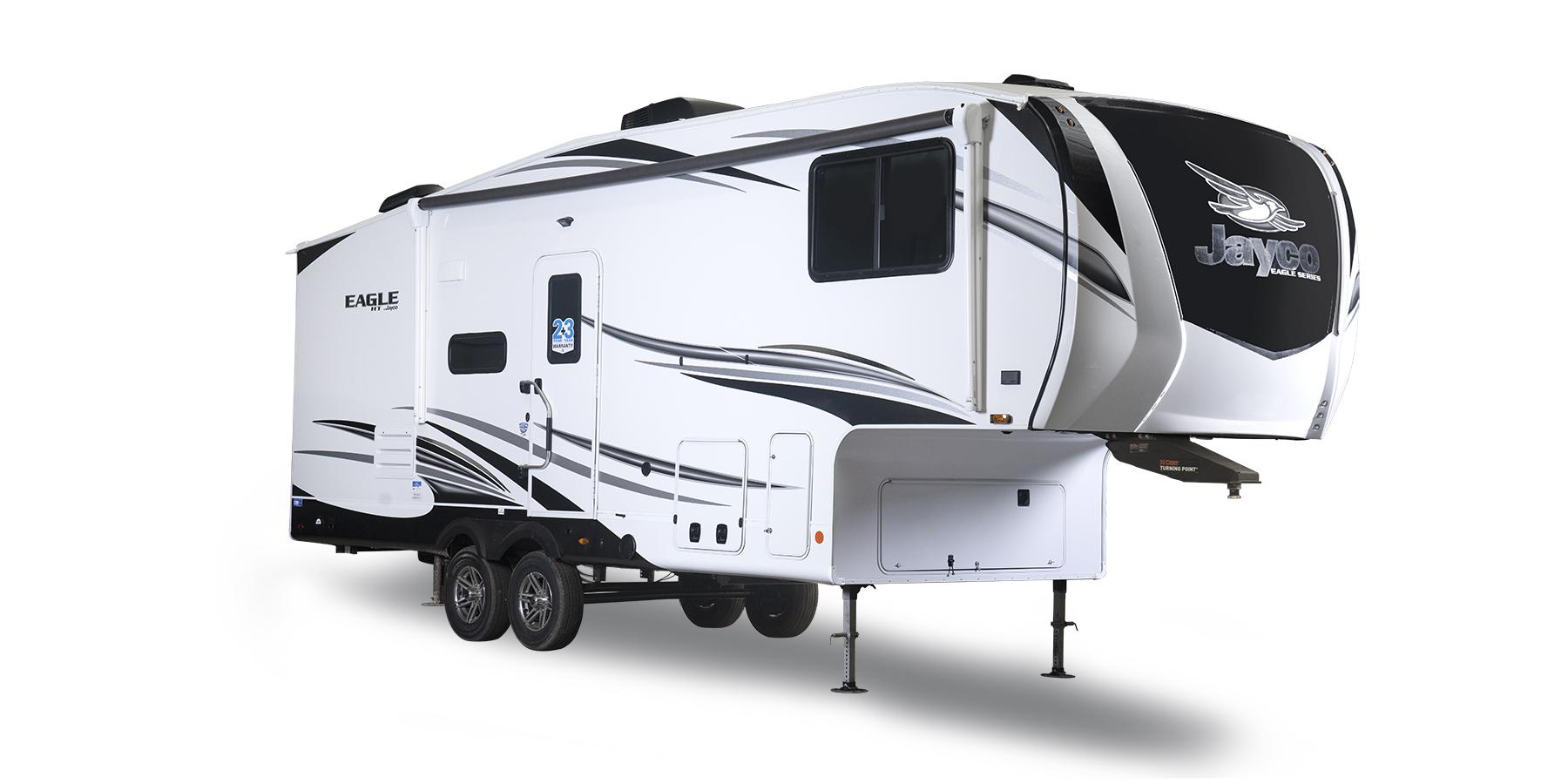 Jayco Fifth Wheel RVs
Jayco Fifth Wheel RVs offer the perfect blend of innovation and comfort for the modern road explorer. Known for their durability, these RVs provide a home away from home with luxurious living spaces, state-of-the-art amenities, and a reputation for quality. Whether you're looking at the spacious Pinnacle or the versatile Eagle, Jayco's commitment to sustainability and customer satisfaction is evident in every detail. Ideal for families and couples alike, Jayco Fifth Wheels are built to make every journey memorable, delivering unparalleled experiences wherever the road may take you. To learn more check out the link below.

Brinkley Fifth Wheel RVs
Brinkley Fifth Wheel RVs stand at the forefront of luxury and innovation in the world of recreational vehicles. With a meticulous design that emphasizes both style and substance, Brinkley RVs redefine the road trip experience by offering sumptuous interiors, cutting-edge technology, and unparalleled build quality. Each model is crafted with attention to detail, ensuring that travelers enjoy the ultimate in comfort and convenience. Whether you're venturing out for a weekend escape or embarking on a cross-country odyssey, a Brinkley Fifth Wheel RV turns every journey into a first-class adventure. If you want to read more about Brinkley Fifth Wheel RVs read more by clicking the link below.